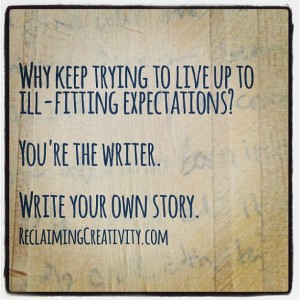 In the spirit of consolidation, I've redirected WPChick.com to this site. Well, more specifically this page, which explains why.
So I'm down yet another site. Right now there are three that are mine, this one, Reclaiming Creativity, and The Alternating Current.
Still not sure what I'm doing with Alt. Current, and Reclaiming Creativity isn't going anywhere anytime soon, but One Thing At A Time.
That said, I'm still doing a little of what I did with WPChick: the WP Coaching & Quick & Easy Sites, but it's not all of it. Making room for the new doesn't necessarily mean completely getting rid of the old.
After all, I said I'm consolidating…
You may see some nifty little images like the one at the top of this post pop up on my social media profiles (see the little handy block of icons to the right) over the next few weeks. They're snippets of my thoughts on what I'm tentatively calling Creative Voice Facilitation.
Anywho, It really feels good. I don't have the time or energy anymore to deal with the multitudes of web sites I was maintaining. Not only that, it felt like I was fractured. Pieces of me were scattered all over the interwebs. Time for a more holistic approach to what I do online, and this is the start.