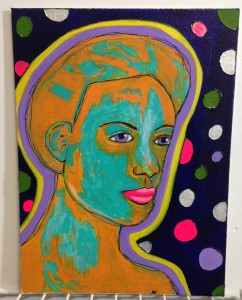 So this is it. Day 1 of 30 paintings in 30 days. I had started this face in a class I took at Create New Jersey a couple months ago and decided it was time to finish her up.
I used something new to me to make the outlines of the circles, which you really can't see since the background is kinda dark. But it's a dimensional outliner by pébéo. Gotta use it some more to get a handle the flow – it's a bit splotchy on the canvas. But it's a fun accent to use. I'll experiment some more with it.
Learnings & observations so far:
Prep backgrounds: It's easier to paint when I have a few marks on the substrate already, so I'll prep a few here & there with some backgrounds so I have a place to work from.
Just do the work: I was totally apprehensive about finishing a painting, but once I got to the work, it came pretty easily (crossing my fingers this continues).
Ears aren't easy: It's something I need to work on. I've avoided ears on my faces for years, maybe it's time to change that.
Get a handle on the comparison monster: The pop-up galleries for the day's work on the Facebook group are FULL of amazing art, but I must keep my eyes on my own paper & resist comparison.
People can really be awesome: In the group, I'm blown away by how everyone's stepped up to the challenge, and the support and love and encouragement oozes through the computer screen. The interwebs rock.
Besides this painting, I've done a bit of background work on a few surfaces and prepped some more with a few extra coats of gesso. I like a nice, smooth surface to work on, so gesso and sanding is definitely a part of the prep work.
On to the next!